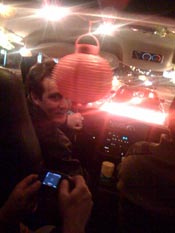 The first full day of Operation Schwaggin' Wagon was a blowout success. Much unwanted and useless schwag was collected for redistribution and/or recycling, and dozens of web 2-0ers were stickered and chauffeured to and from various events. Highlights were the Mashable / Chi.mp bash at Mighty (photos) and the Yahoo! Brickhouse party.
Come visit the Schwaggin' Wagon today and Friday nearby Moscone West. Look at our twitter or brightkite for exact location.
Like AdRants wrote:
Because Do You REALLY Wanna Take the Casale Bag Home?

Last week at ad:tech, Steve and I ran into Marjorie Kase. Kase is a mastermind behind the Schwaggin' Wagon, whose mission is to gather craploads of SWAG (Stuff We All Get — but don't actually want) for charity.

The Schwaggin' Wagon will take donations all through the Web 2.0 conference in SF this week. Follow the van's activities on Twitter (caution: psychedelia ahead) or check Facebook for tour updates.

Let's just hope the Schwaggin' Wagon doesn't cross paths with Plaid Tour '08, because the result (AESTHETIC WARFARE!) might give us epilepsy.
Hop on the wagon. It only gets better.