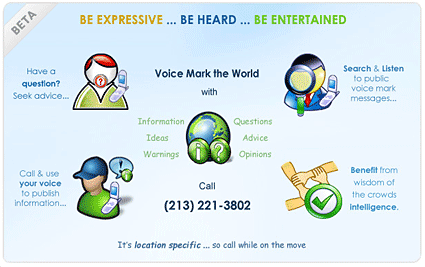 GeoGraffiti is a free, community-driven messaging service, that aims to tap into the collective wisdom of the 200 million-plus mobile phone subscribers in the U.S. via a single 1-800 number. GeoGraffiti enables users to ask and answer questions, voice an opinion, announce an event, or just leave a mark:
GeoGraffiti's mission is to organize the mobile phone community's "wisdom of crowds" intelligence, and to facilitate the exchange of that location-specific intelligence by providing a voice-driven platform that is accessible from any phone and any place.

Think of GeoGraffiti as a verbal message board for sharing and retrieving Voice Mark™ messages while you are out and about visiting different places throughout the day. A Voice Mark™ is a short phone message that shares information (e.g. opinions, tips, warnings, advice) about a place, an event, a topic, or really anything else you care to share….
The Schwaggin' Wagon is proud to be sponsored by GeoGraffiti and we look forward to beta-testing the service at Twiistup4, Summer Mash LA and beyond. Join us!
Watch GeoGraffiti's how-to video below: