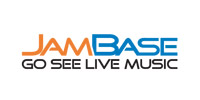 JamBase, a music fan site since 1998, is the go-to source for live music information on the web, boasting the largest database of music concert tour dates in the U.S. JamBase is a founding sponsor of The Schwaggin' Wagon, and we are honored that they continued their support with this week's L.A. run. We were thrilled to have a special appearance at the Mashable party by JamBase Director of Biz Dev Julie Blaustein, who wore her lei and Schwaggin Wagon sticker with apparent pride. JamBase provides an easy concert search tool on its site, while serving up quality articles, album
reviews, artist interviews, festival info, and other great content.
With JamBase's open API, developers and users can share JamBase data
in various formats and locations online. JamBase also syndicates its
concert database via partner channels, including the just-launched
Tour Tracker franchise by AOL, found at TourTracker.com, at
music.aol.com, and in the upcoming Tour Tracker widget. Now quit reading
this blog and Go See Live Music™!