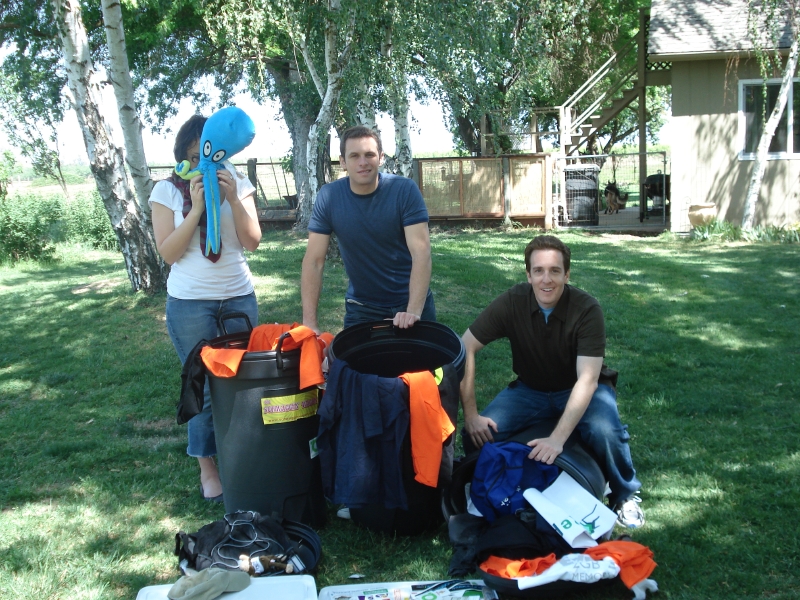 This is the first moment I've had to reflect on any larger understanding of what the six of us just did in the last 72 hours.
Are we a smart mob?
Not exactly. Smart mobs generally refer to examples of collective intelligence that happen among a very large group of people, not a small group of six. Usually the term refers to ad hoc groups. At least most of us knew each other ahead of time; we are not pure ad hoc.
Are we a workgroup?
Not so much. We had no prior organization; while I knew everyone, some only met each other through me just for this endeavor. We did not set out formal roles. We did not spend any time in meetings ahead of time. We did communicate, but not all at once, and not face-to-face.
Are we a flash mob? Not at all, because we had a purpose beyond the aesthetic: a purpose of donating schwag to charitable organizations, as well as to raise awareness among conference goers about schwagwaste. Plus, we stayed for days, not minutes. Oh, and no pillow fights were involved.
I realize now that we just exemplified Flash Philanthropy. I could have called it "smart philanthropy" to be more accurate and in appreciation for Howard Rheingold's great concept, but that would have been misinterpreted later. In relation to the amount of time it usually takes to create awareness and charitable events, spending a few days planning and a few days executing is worthy of the term, "flash."
In choosing to continue our mission, perhaps we've graduated from flash philanthropists to something else.
Bottom line: We had a common purpose, the team sprung into action, and we achieved our goals by tapping into new technology, and we did it in a few days. That's Flash Philanthropy.